My little boy wears a collared shirt to church every Sunday. Even though he has a nice pin-striped dress shirt, most Sundays, he wears a polo shirt onesie instead. Why, you ask? One reason:
the stay-tucked factor
.
Cheri over at
I Am Momma - Hear Me Roar
has solved this dilemma with
The "Always Tuck Me In" Shirt
tutorial, which turns a dress shirt and a onesie into a dress shirt that always stays tucked! This is a winning solution for so many reasons:
Baby looks snazzy wearing a dress shirt that stays tucked. Nothing less snazzy than an untucked and rumpled dress shirt.
Mommy escapes insanity caused by needing to tuck dress shirt back in every time she picks baby up.
Mommy saves money by buying great-condition boys' dress shirts and stained-neck onesies at yard sales. Compare the maximum $1 for both of those items to the $20 price tag on one of these or $40 for one of these. Or don't bother comparing because spending $1 will always be better than spending $20 and waaay better than spending $40.
Daddy is happy because Mommy is saving money and because Baby looks oh-so-handsome and garners more "handsome like his daddy" compliments.
Time spent:
30 minutes (and that includes snack time :)
Money spent:
25¢ for dress shirt (last summer's yard sale-ing stash); free hand-me-down onesie; all other materials on hand
Turned and sewed...
And... done! So easy!
Perfect for little boys who love to play with sticks...
What I did differently...
My onesie didn't have side seams like Cheri's, so after I cut the bottom off the onesie, while it was still laying flat, I marked each side with a marker so that I could match my marks with the side seams of the dress shirt.
Before sewing, I pinned my marked sides to the side seam. When it comes to evenly distributing stretch, I must have pins to help me.
As I stretched the onesie to be the same width as the dress shirt, I noticed that the button-down front (the overlapping button strip thing whose name I do not know) was coming open, so I pinned that part of the shirt closed to prevent any distortion or gap.
If When I do this again....
Absolutely no changes!
This is so simple and I will for a certainty be doing this again. Maybe even to The Mr's shirts if I can find a onesie large enough... ;)
UPDATE 9.9.10: One possible change... apply this treatment to a polo shirt! The lovely Nora commented that she used to do this to her boys' polo shirts... so now I can't wait to get my hands on a polo to try it out!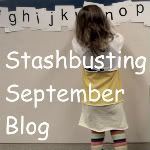 This project is also my first
Stashbusting September
project (since I purchased the shirt last summer... before my almost-one-year-old was even born!). I'm fairly confident that I can go the whole month crafting only the planned-and-never-started projects in my stash... add to that the started-and-forgotten projects and I could probably go until Christmas!
My next stashbuster is a project I started last September: the diaper bag I started sewing the day before my son was born! I gave myself a one-year deadline and it's approaching all too quickly...
Linking to